Electronic Logging Devices
Overland Transportation Services has partnered with Vistracks, a FMCSA certified Electronic Logging Device (ELD) manufacturer. We in partnership with Vistracks would like to be the ELD solution for your company. We offer many different plans to fit your company's specific needs and wants. Vistracks ELD devices have many capabilities, including E-Logs, IFTA, Track & Trace, & Driver Vehicle Inspection reports. With Vistracks you have the option to utilize your own smart device or have Overland Transportation provide one with the data plan included. Work with a trusted company with an established reputation of 28 years in the regulatory compliance industry.
Call (800-359-8725) or Email today to:
Discuss different pricing options
Set up a Online-Demo
Order a Demo Unit
Discuss product further
Let Overland Transportation help get your company ready to get you on your path to compliance for the December 18th, 2017 deadline.
---
VisTracks – Hours of Service
VisTracks Hours of Service is the most comprehensive Hours of Service tablet app and portal in the industry
VisTracks Hours of Service will appeal to fleets from Owner-Operator to medium-large fleets including DVIR, and optional customized DVIR, IFTA and comprehensive engine data options
Best of breed hardware supported
VisTracks services are designed to be sold by channels, completely white-labelled
VisTracks is an excellent partner
Our focus is your success, not just with excellent products, but with seasoned management and support staff, and worldwide experience
Your success is our success
---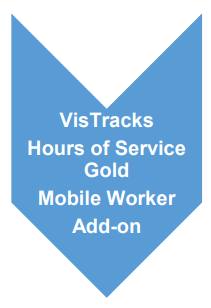 Certified ELD app including connection and synchronization with Portal; ELD, DVIR, IFTA and ability to add additional services from reseller or from VisTracks
DOT hours of service logging, vehicle & trailer inspections, team driving, online help. Includes interaction with an electronic logging device (ELD) for verification and testimony to the veracity of driver logs
Interaction with the VisTracks Portal for back office monitoring of driver status, ability to create custom inspection categories, manage drivers, edit logs with audit, view reports
Includes DVIR and IFTA
Hours of Service Gold add-on
Real time tracking of Mobile Workers with work orders, dispatching, job site completion reports, mobile inspections, signature capture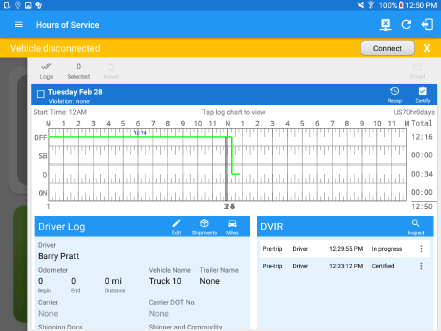 Hours Of Service, DVIR, DOT/FMCSA Certified
---
VisTracks Hours of Service Differentiators I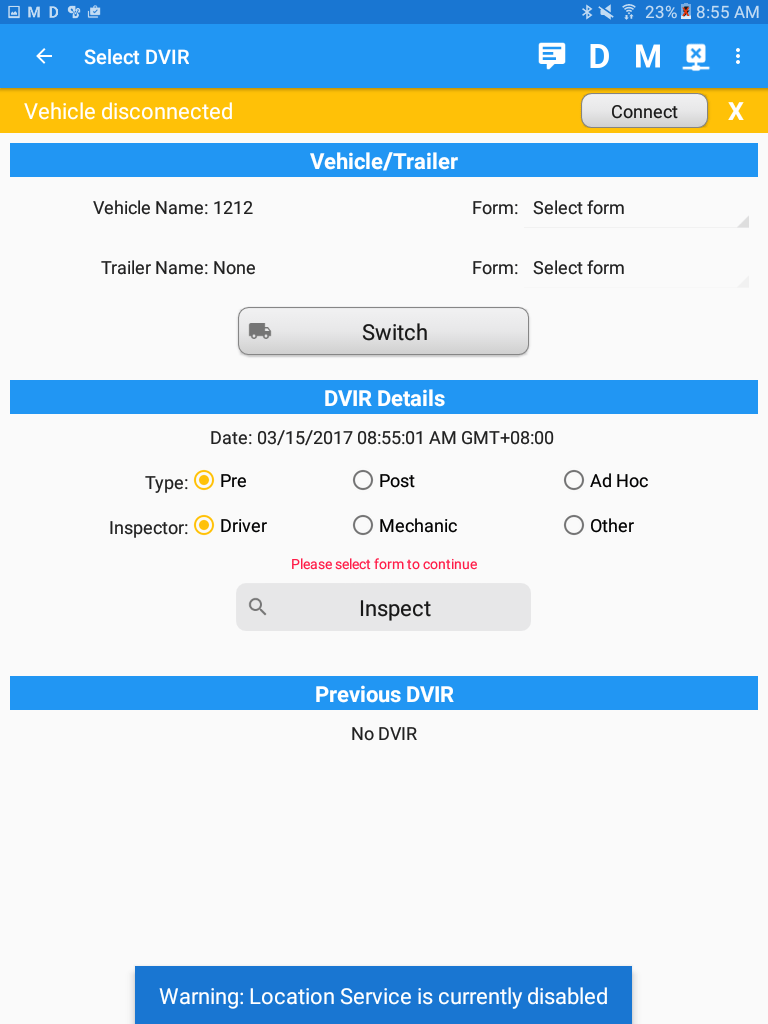 Completely White Labelled
Brandable, logos, icons, app name, colors, Google package name, URL's, reports, portal i-frames or API integration to existing channel portal
Certifiable on FMCSA website in reseller's name for those resellers that have our product branded for them
Enhanced DVIR
Customizable pre and post trip DVIR points on per asset or class of asset basis
Speech to text to avoid typing (and typos), time stamping of DVIR entries
Extremely Easy To Use
Help documentation for each and every screen with examples, hot-to's, etc.
Makes driver's life easy, minimizes support requirements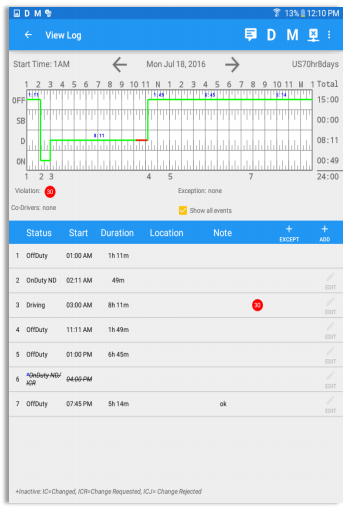 Unlike other providers, our portal's log grid clearly shows violations
Violation Icon below makes it easy to identify an issue and ensure that corrective measures are taken
In addition, violation action report available for download from the web portal
Report can be completed, printed, signed by all parties and scanned and attached to the violation record
Slip Seat or Team Driving
Drivers can easily switch vehicles/tablets during the day, up to 6 driver supported
The Co-Driver's name is also displayed below the grid chart.
The Co-Driver is allowed to review his/her information by having the "Access Co-Drivers Logs" option on the lock screen which allows them to access the Hours of Service dashboard and subsequently select the Logs option while the vehicle is still in motion.
Once the Co-Driver successfully login, it will display the main dashboard with the co-driver's information with limited conditions set in Review Mode.
A driver that is set as the Primary Driver is the one currently using the application while the other one is only in the monitoring state.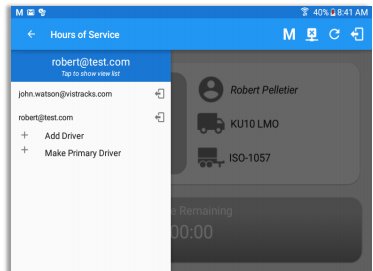 When a Co-Driver is on the Review Mode and that the vehicle is not in motion, an option to make the co-driver to become the Primary Driver is available on the Drivers List
Once the "Make Primary Driver" is enabled the VBUS services will restart under the new primary driver's account
The "Make Primary Driver" button will be disabled when the main driver is in a Driving State, which will then display a label stating "Cannot Change Driver While Driving"
---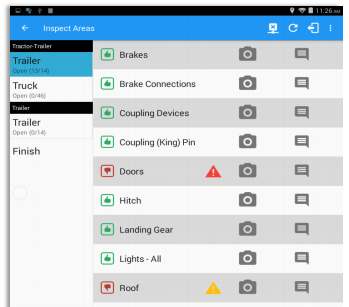 VisTracks Hours of Service Differentiators II
Offline support – disconnected operation
Fully integrated portal backend for driver dashboard at home office, feature rich, fully synchronized with tablet and all Hours of Service product options
Numerous API's for integration with other portals.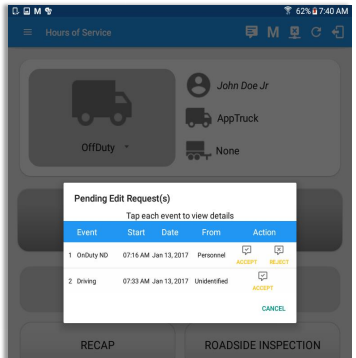 Two-way integration of portal edits with the device including full edit logging
Drivers can review requested edits from a fleet manager/personnel user or co-driver and indicate whether they wish to accept or reject the proposed events.
In addition, Intermediate logs, driver's Login/Logout activity, CMV's Engine Power On/Off and are available to help the driver monitor the Vehicles condition and status.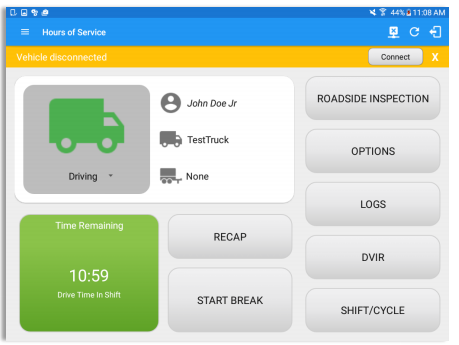 It also indicates if the device is connected or disconnected to a VBUS device
Switching or selecting a Vehicle with a preconfigured VBUS device enables the app to find and connect on the match device.
If the app attempts to connect to an unsupported device. the app then displays a dialog which warns the user that the equipment has an invalid VBUS device type set and that the default device type is being used. The 'Device Not Supported' dialog will be displayed stating: "Device is no longer supported. Please use manual connection." along with a Cancel and Manual Connection buttons.
Note: On the VBUS Settings, VBUS Data and Automatic Configuration should be enabled.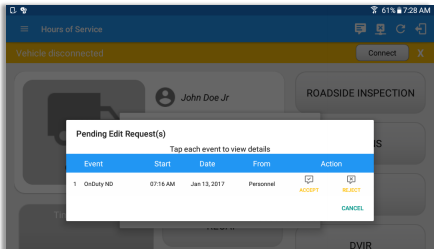 Unidentified Driving Events
If the driver logs out from the Hours of Service app and the vehicle is put into motion for more than 3 minutes, Unidentified Driving Events are automatically created under the Unidentified Driver account.
When an Authenticated Driver logs into the Hours of Service app, these events can then be accepted by the driver or be left in the Unidentified Driver account
Pending Edit Request dialog for unidentified driving event has additional details like: From & Equipment ID compared to edit request from personnel.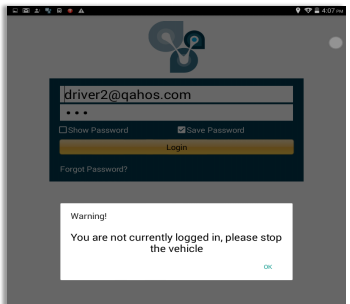 Warning features
If the driver has logged out from the app and the vehicle is put into motion, the ELD prompts a visual and audible warning reminding the driver to stop and login to the ELD. This monitoring and notification capability is dependent on a VBUS data connection running in the background.
The visible warning stays on the screen and also prevents the driver from using any features of the tablet until the vehicle has stopped.
If the driver logged into the application without the Location Services turned on, a snackbar will display on the main dashboard and to other screens except for the screens navigated through the Settings menu . However, when the Location Services of the device is enabled then the snackbar will no longer display.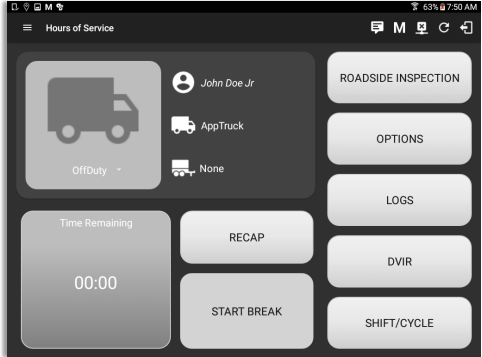 Theme for night time driving
When night mode is enabled, the application automatically changes the color scheme of the user interface.
The theme will activate based on the calculated sunset time of the device's GPS position or time settings.
---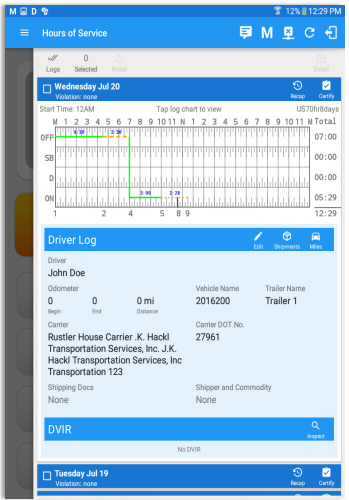 Events such as Personal Use, Yard Moves and Off Road are also recorded in the driver's history list. However, only the Personal Use and Yard Moves are displayed on the grid chart as an Amber color line to be visually different with the other event statuses, a dashed line represents the Personal Use event and a dotted line represents the Yard Moves event. The legends for Personal Use and Yard Moves event will only display when the said events occurred.
Log Certification is also available in the app. One can monitor when a certified log has been edited in the portal. Edit suggestions will prompt the driver to either accept or reject the requests, Recertification of the log is required for accepted events. A label in the title log will display "Recertify" message.
---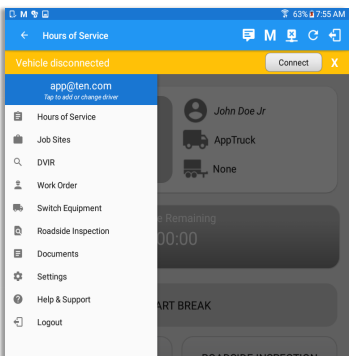 VisTracks Hours of Service Differentiators III
Control tablet from portal, such as disable driver log edits
Ability to filter log edit reports on portal by consistent codes—not available on other products which show all codes that must be manually scanned
Easy to use, minimal training required, on-screen documentation to minimize errors and support costs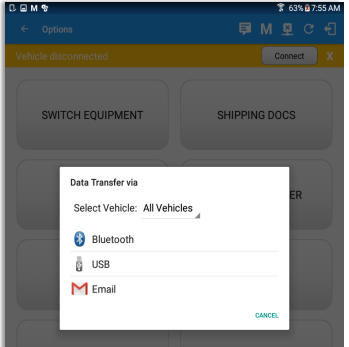 Easy to use administration tools for account, vehicle and driver management
The ELD provides a standardized single-step compilation for the driver's ELD records and initiation of the data transfer to authorized safety officials when requested during a roadside inspection.
The ELD can also produce a data file or a series of data files of ELD records for a subset of its vehicles used by the driver through the 'Select Vehicle' option. Tapping the menu will display the list of vehicles.
Supports French Canadian and Spanish Language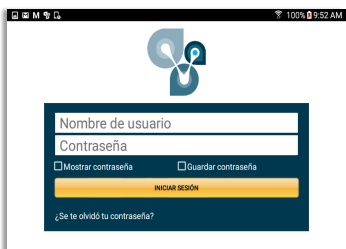 The app also supports language translation for French-Canadian and Spanish.
Note: To enable the translation, go to the Android Device Settings > Language and Input > Language. Select between the supported language and the translation will take effect immediately.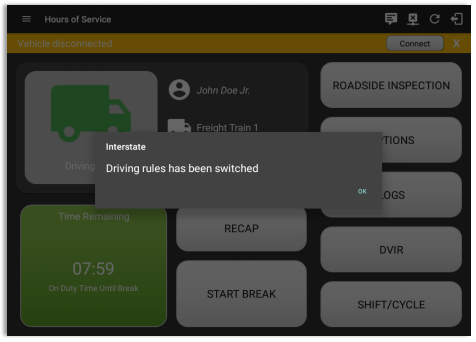 Support for both federal, state, Canadian driving rules and exemptions
Switching of driving rules from Interstate to Intrastate and vice versa
The app also has the ability to perform intrastate checks optionally.
---
VisTracks Hours of Service Solution Architecture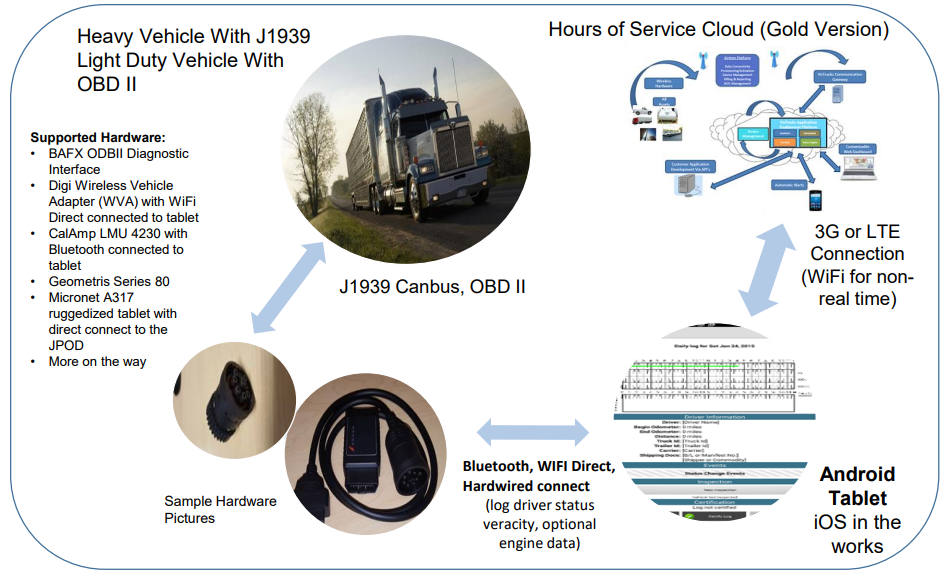 ---
VisTracks Mobile Worker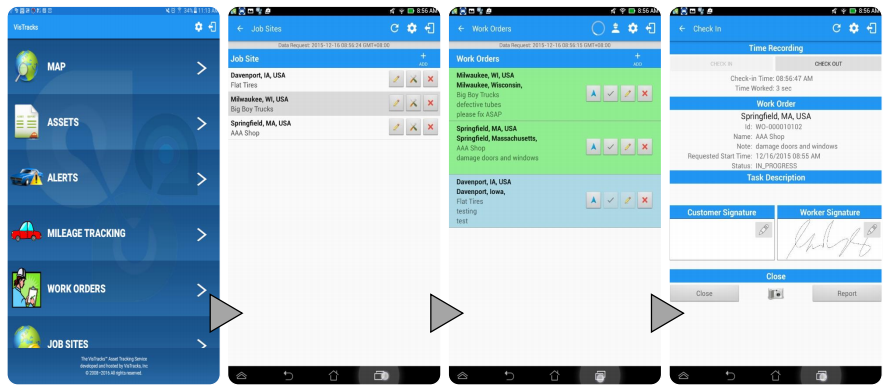 Mobile Worker Reporting
(Tracking, Alerts, IRS Mileage, Quick Messages, Job Sites, Work Orders, DVIR, Completion Reports)
VisTracks Mobile Worker Option Key Features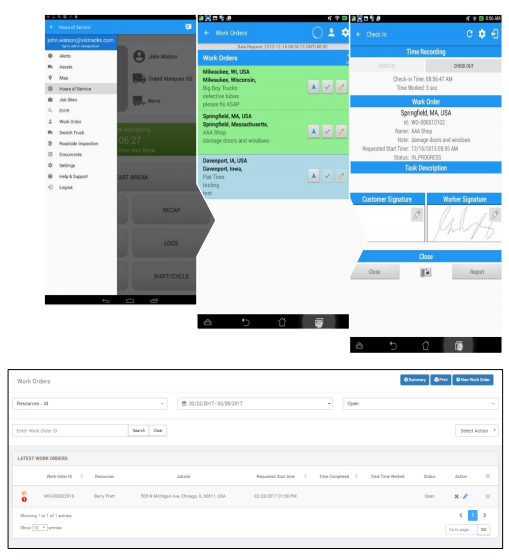 • Portal
Create new work orders and job sites
View work order status
Report
Work order completion report to selected email address
Android Phone/Tablet app
Part of Hours of Service Menu
Ability to view pending workers and job sites
Ability to set the clock running on a work order, stop when done, write/speak a report, take pictures, capture signatures, email upline